Weekly Update: Industrial Capital Markets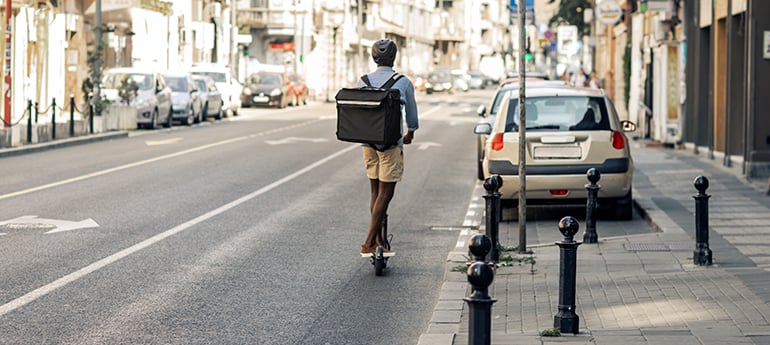 16 Oct 2020
While industrial assets continue to be one of the brightest spots in the overall real estate market, industrial development also continues to flourish for a host of reasons. In this issue we provide you insights from national industrial developers who share some of their experiences from the front lines of industrial development today.



Erik Foster
Principal
Head of Industrial Capital Markets
Industrial Construction: What's Ahead for 2021
Industrial development continues to move ahead at a strong pace in many U.S. markets, with signs pointing to a continuation of that momentum for 2021. Despite a slowdown in the early days of the pandemic, due in part to municipal shutdowns that impacted permitting and zoning, the development cycle is back on a strong progression, according to industry experts and a review of market research.
"Everything seems to be clicking on all cylinders," said Anthony Pricco, President, Bridge Development Partners, which has 25 million SF of existing and pipeline development, primarily across Southern California and the northeast U.S. "The unfortunate events surrounding the COVID-19 pandemic have really been a huge boom for industrial warehouse usage and I don't think that will change."
The surge in consumer spending on grocery and consumer goods products during the pandemic is fueling a significant portion of this activity, as Amazon, Target, Walmart and others add space to keep up with market demand.
"We've been in ecommerce since 2010, so we've seen a lot of growth, but even we were blown away by how much exponential growth we saw in ecommerce as part of COVID-19," said Rob Rakusin, President and CEO, Seefried Properties. The firm is focused on development in markets that have strong population growth or are big population centers or logistics corridors, markets such as Los Angeles, the Inland Empire, Dallas, Atlanta and Chicago. According to Avison Young research, market fundamentals in these core markets will likely continue to fuel robust industrial development as a result of the increased need for enhanced supply chains for end product delivery.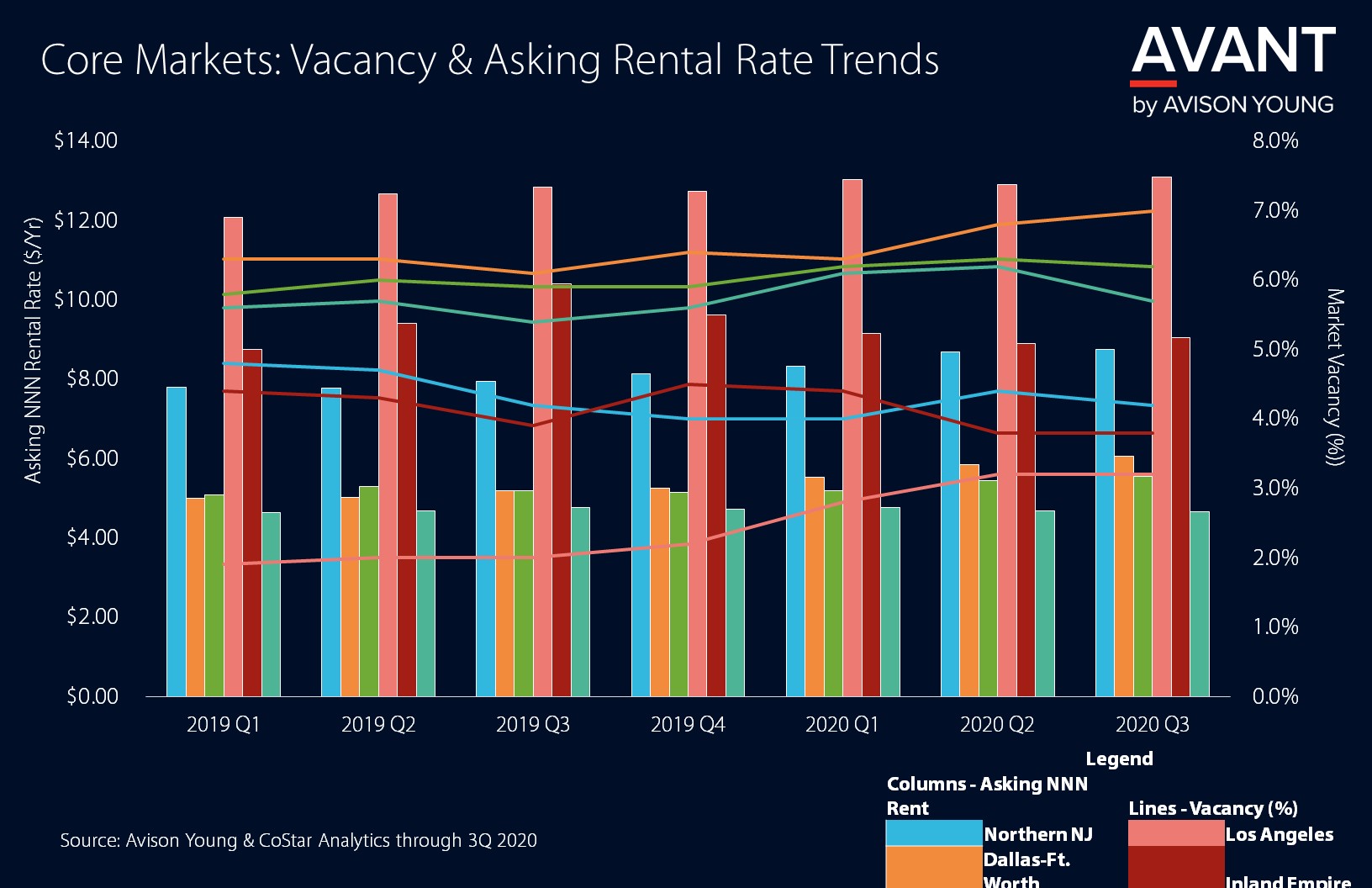 These core markets have all seen positive market fundamentals including, in some cases, historically low vacancy rates over the last few quarters. Also, asking rental rates have increased for industrial product. From a development perspective, this indicates that there is limited available supply in these markets.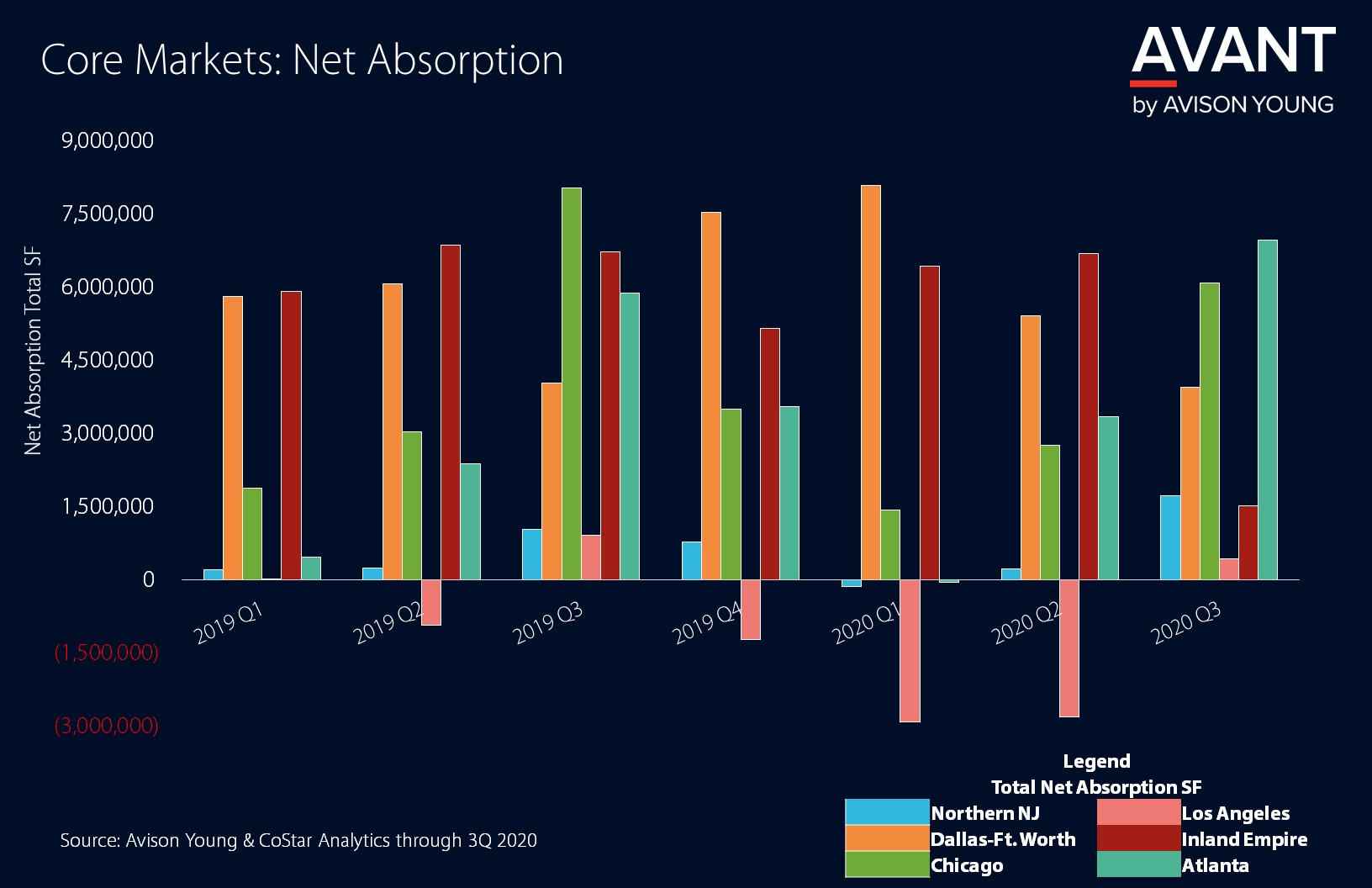 Moreover, most of these core markets have seen positive net absorption, with Los Angeles being an outlier, indicating that there is still considerable tenant demand for industrial product in these core markets.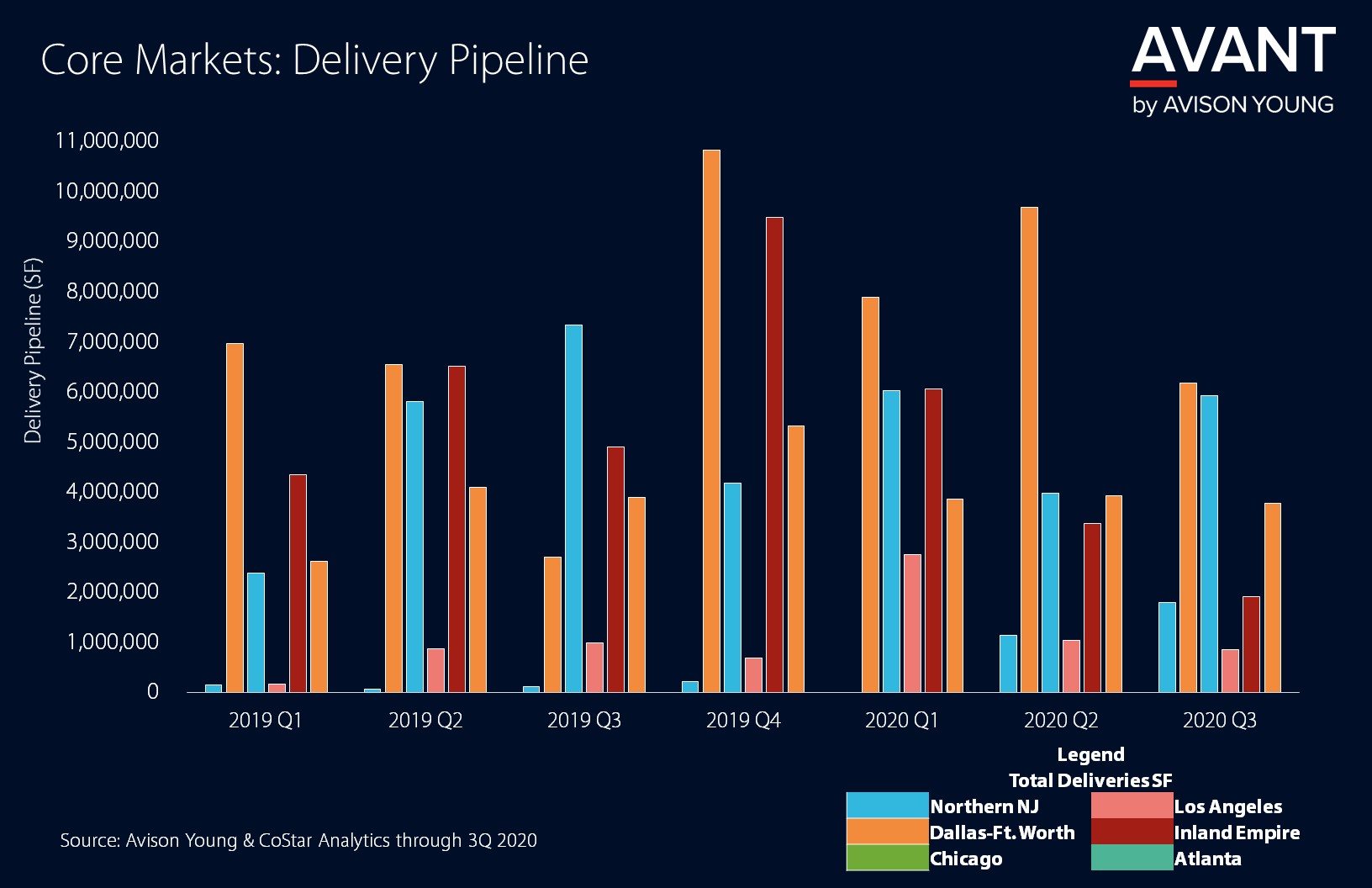 Developers have been delivering a consistent delivery pipeline of industrial product over the last few quarters, as evidenced in the table above. Even with the large amount of industrial product hitting these markets there still appears to be positive momentum and demand for industrial space.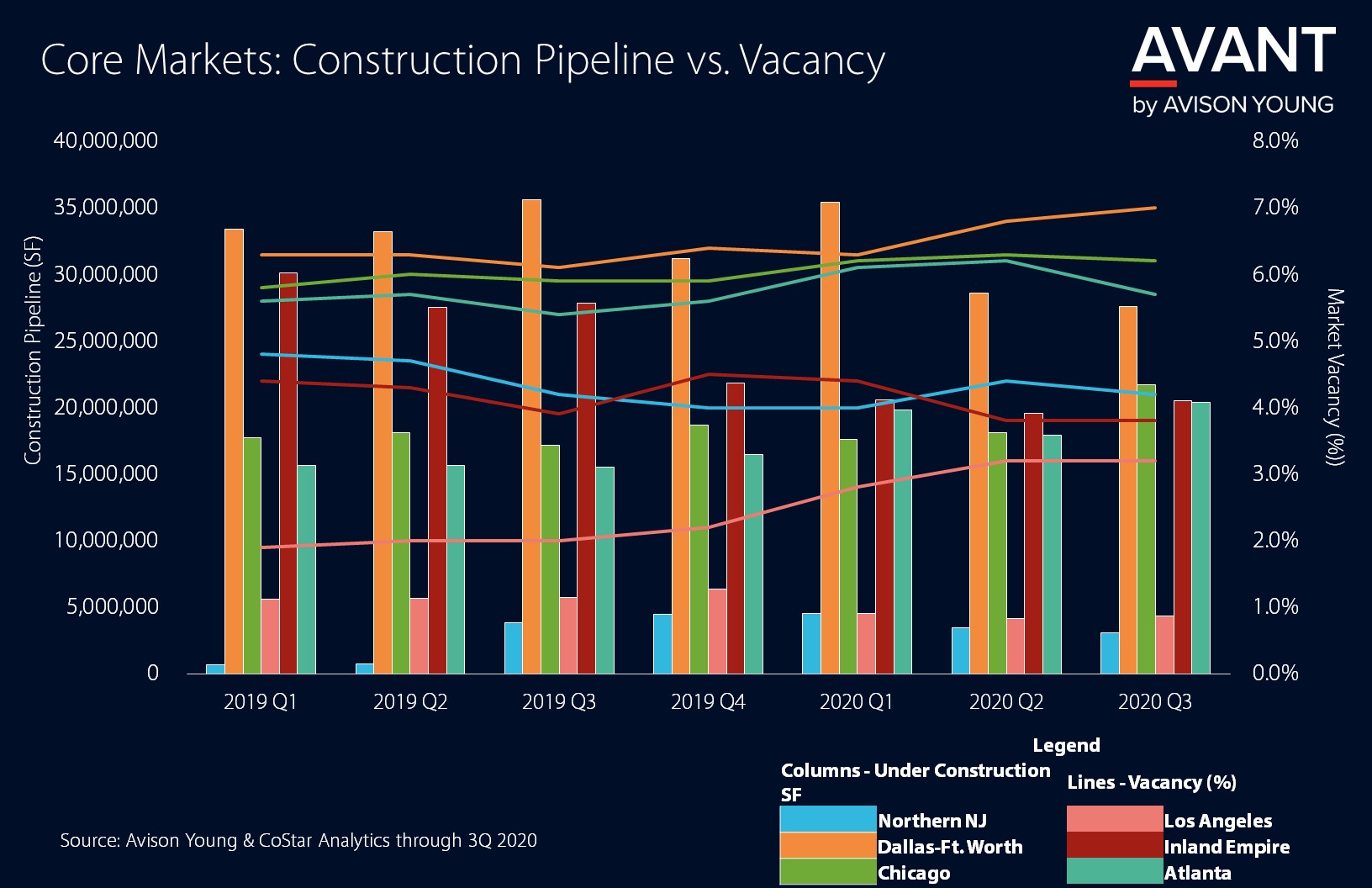 Since market vacancy has remained low since 2019 Q1, even with a consistent delivery pipeline, we are still seeing significant construction activity across these core markets given increasing asking rental rates over the past few quarters. As such, we believe that there will continue to be robust demand as a result of positive macroeconomic fundamentals (i.e. rise of ecommerce demand & grocery demand) and some industrial developers growing appetite for risk adjusted returns in the industrial space.
Additionally, this is not unique to core markets. Among the strong secondary markets for development activity in 2021 are Phoenix, Charlotte, Greenville, SC, Orlando and Salt Lake City. "Those markets are ideal for speculative development in the 2021-2023 timeframe," said Rakusin. "Many of these growth markets have a lower barrier to entry and a business-friendly environment, along with ecommerce growth, which are positive factors for development."
As businesses retool for the next several years, some are also planning to add extra space to allow for storing additional inventory -- to prevent the types of shortages seen during the pandemic.
"They experienced a great deal of product shortages, not just in consumer goods, but also in the manufacturing and assembly process," Rakusin said. "We think many businesses will increase inventory on their books to make sure they have those products and parts readily available."
Land pricing rising
The strong development cycle is also pushing land prices higher, particularly in land constrained markets with strong demand. In many top tier markets, land pricing is back to where it was before the pandemic. This is fueled by increased competition, including from REITs now that stock prices are also back to pre-pandemic levels.
Land has also become a hot button for Amazon as it looks to secure space for trailer and van fleet parking. One example is an Amazon fulfillment center in Cicero, IL where Bridge Development Partners built 575,000 SF of warehouse space in two buildings, with one 343,000 SF building used for vehicle parking and staging of delivery vans.
"Parking is so critical to them," Pricco noted. "It is such a small part of their overall business expenses, but it's vital to their business model."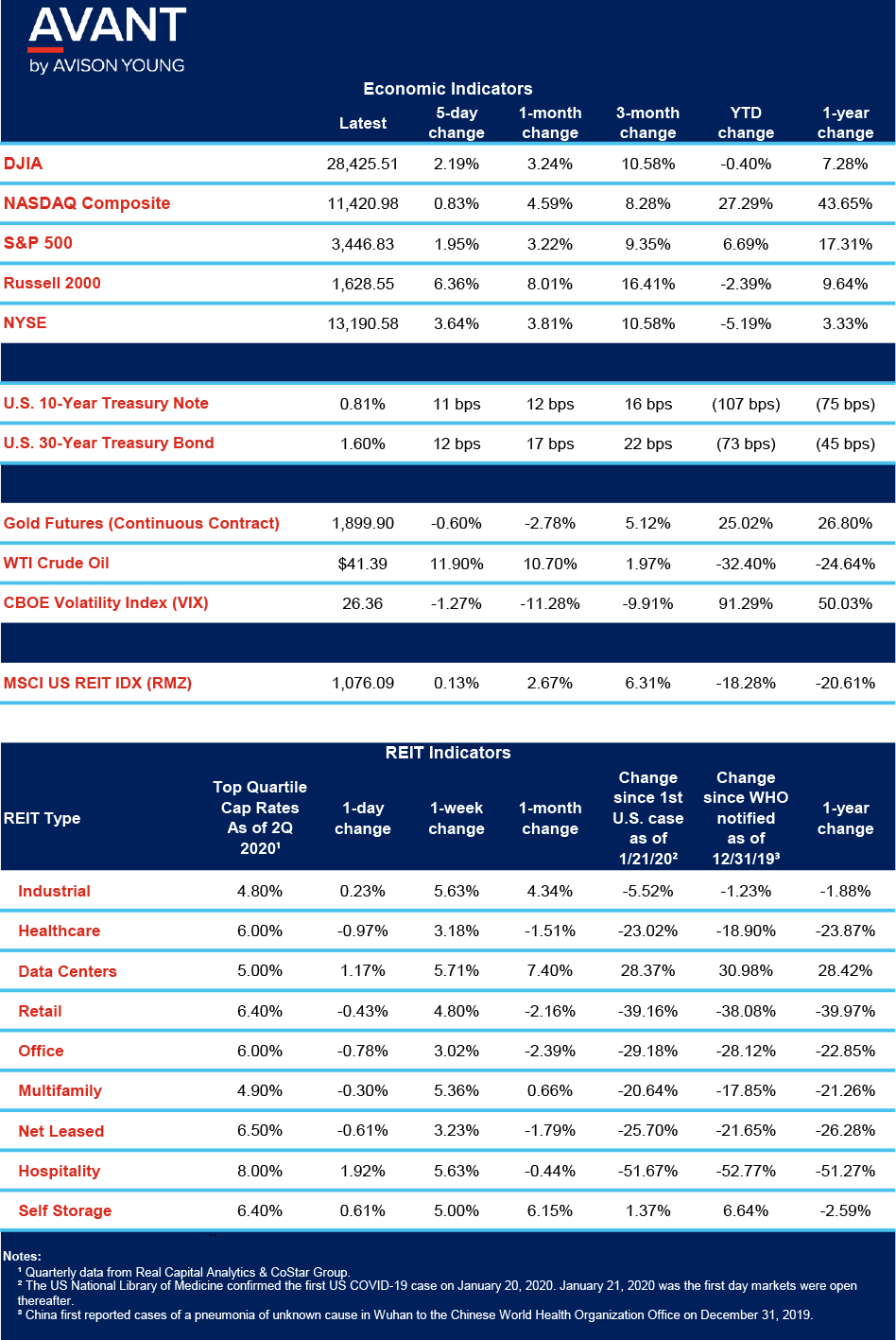 The spread of COVID-19 and the containment policies being introduced are changing rapidly. While information included is current as of the date written, the views expressed herein are subject to change and may not reflect the latest opinion of Avison Young. Like all of you, Avison Young relies on government and related sources for information on the COVID-19 outbreak. We have provided links to some of these sources, which provide regularly updated information on the COVID-19 outbreak. The content provided herein is not intended as investment, tax, financial or legal advice and should not be relied on as such.