Avison Young Boosts Pan-European Real Estate Capital Markets Team with Appointments of Martin Brümmer and Christian Schreiber from Brookfield Financial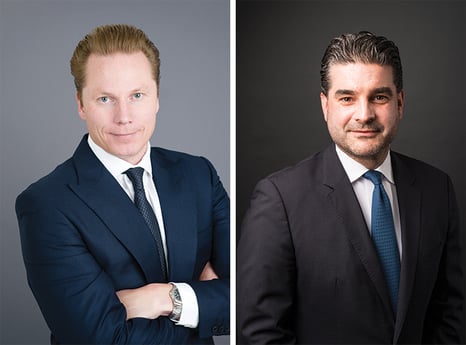 23 Apr 2020
London/Munich – Avison Young, the global real estate advisory firm, has appointed Martin Brümmer and Christian Schreiber as Principals in its European Capital Markets group. Brümmer and Schreiber will operate out of Germany and join Avison Young from Brookfield Financial (BFIN), an advisory arm of Brookfield Asset Management, where they co-led the European team as Managing Partners.
Gerry Hughes, President of Avison Young, Europe, said: "Avison Young is seeking top entrepreneurial talent as we rapidly grow a fully integrated real estate advisory firm across European markets and that's what we've found in Martin and Christian for our cross-border capital markets team. They have outstanding track records and extensive market networks, which can be seen in the successful business they built at Brookfield Financial and this will provide a solid base for expanding AY's market share in Europe. Real estate clients face extremely challenging environments as European economies work their way out of the effects of the Covid-19 pandemic. Martin and Christian will coordinate closely with Penny Hacking, Principal in our Capital Markets group based in London, to provide clients with strategic consultancy across Europe, and particularly in the DACH region, as they adapt their businesses to the new realities of the markets."
Brümmer and Schreiber, together, bring more than 40 years of investment experience in all major real estate sectors and across the entire capital structure. Over the past five years, they have originated and closed more than €4 billion in transactions.
Martin Brümmer joined Brookfield Financial (BFIN) in 2013, before that he was a Managing Director at FMS-Wertmanagement, Germany's largest 'bad bank', formerly known as Hypo Real Estate, where he was the company's Deputy Chief Real Estate Officer and on the supervisory board of the firm's servicing entity. Prior to this, Brümmer worked as a Principal for Lehman Brothers and O'Connor Capital Partners, focusing on German and pan-European acquisitions.
Martin Brümmer said: "Christian and I were attracted by the entrepreneurial culture at Avison Young and the way in which Gerry Hughes and his team are building a leading pan-European real estate advisory business. We are also impressed by their relentless focus on client servicing. As Principals, we have a stake in the firm's success and the responsibility to help drive the Avison Young growth story."
Prior to joining Brookfield Financial (BFIN) also in 2013, Christian Schreiber ran his own real estate brokerage and advisory business, focusing on opportunistic and distressed real estate, including Lehman Brothers' legacy assets.
Christian Schreiber said: "The profound impact of the Covid-19 crisis is going to affect all real estate sectors and companies to varying degrees of severity, but it will also bring compelling investment opportunities. We will need to keep close to Avison Young clients and provide them with best in class advice in the volatile and challenging markets that lie ahead."
Avison Young's aim is simple; for real estate to play an active role in developing vibrant cities, and to create long-lasting social impacts for the communities who live, work and play within them. We achieve this by thinking innovatively to develop ideas that challenge the norm and that drive new opportunities for our communities and cities, wherever in the property lifecycle we are advising.
For more information:
Elizabeth Bartlett, Avison Young: T.+44 (0)20 7911 2664, e-mail: [email protected]
Tom Zeller, Feldhoff & Cie. GmbH: T +49 69 2648677-15; e-mail: [email protected]
Steve Hays, Bellier Communication T. +31 (0)20 419 0901