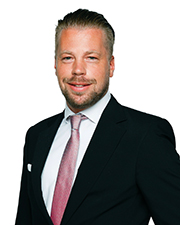 Julian

Haubrock
Principal | Director Office Leasing


Bürovermietung
Raboisen 6

20095 Hamburg, Deutschland
Julian begann seine Karriere im Jahr 2006 als Auszubildender bei der Bielefelder gemeinnützigen Wohnungsgesellschaft (BGW).
Nach abgeschlossener Berufsausbildung zum Immobilienkaufmann IHK und der ersten Berufserfahrung wechselte er im Jahr 2010 als Consultant nach Hamburg zu VÖLCKERS & CIE und wurde später Senior Consultant. Er betreut seitdem Groß-kunden im Bereich Büroimmobilien.
Im Jahr 2015 studierte Julian an der Akademie der Immobilienwirtschaft (ADI) und erlangte den Abschluss Dipl. Immobilienökonom (ADI). Seit Juni 2017 ist Julian Member of the Royal Institution of Chartered Surveyors (MRICS).
Zum 1. Juli 2019 wurde VÖLCKERS & CIE Teil von Avison Young – seitdem ist Julian für Avison Young tätig.
Mitgliedschaften
Royal Institution of Chartered Surveyors (MRICS)
---