Weekly update: Industrial capital markets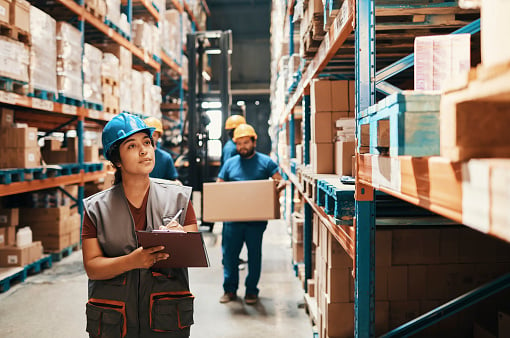 19 Dec 2020
Industrial sale-leasebacks continue growing in popularity
One of the areas of our practice that has increased in the recent years is the area of industrial sale-leasebacks. As the industrial asset class continues to garner record pricing, many owner/users of this type of space are finding the benefits of monetizing their real estate while still maintaining control of it. We hope you enjoy the data below, and please let us know if you have any questions about our sale-leaseback expertise and track record.



Erik Foster
Principal
Head of Industrial Capital Markets
National Historical Sale-Leaseback Activity 2017 Through 2020 Q3
The industrial real estate sector remained a preferred asset class among investors throughout 2020 despite the onset of COVID-19, unlike other asset types, such as the retail and hospitality that continue to struggle. As the year comes to a close, the industrial sector has seen significant growth in e-commerce demand, increased need for temperature-controlled warehousing as well as tenant demand for enhanced supply chains, among other industry trends. At the same time, this increase in industrial investment demand has created a more competitive bidding process, which make investment opportunities harder and more expensive as investors/funds look to displace dry powder.
As a result, investors are looking for alternative investment strategies to build and/or expand their industrial portfolios to meet risk adjusted returns. One strategy that appears to be "gaining steam" throughout the last few years has been sale leaseback investments. Through this type of investment traditional owners/users can monetize their real estate assets/portfolios and use the funds from the sale to reinvest into their businesses or sustain operations during the hardships created by current economic conditions. Investors are also able to place capital into the sector by acquiring industrial asset(s) that have not been historically part of a competitive set of investment properties and have mostly been maintained by the selling party. The sale leaseback process allows both parties to carefully negotiate pricing for these assets in addition to a lease for the tenants to continue to occupy the facilities likely at preferred terms, including: lease term, base rent, rent escalations, recovery structures and any renewal/purchase options upon sale.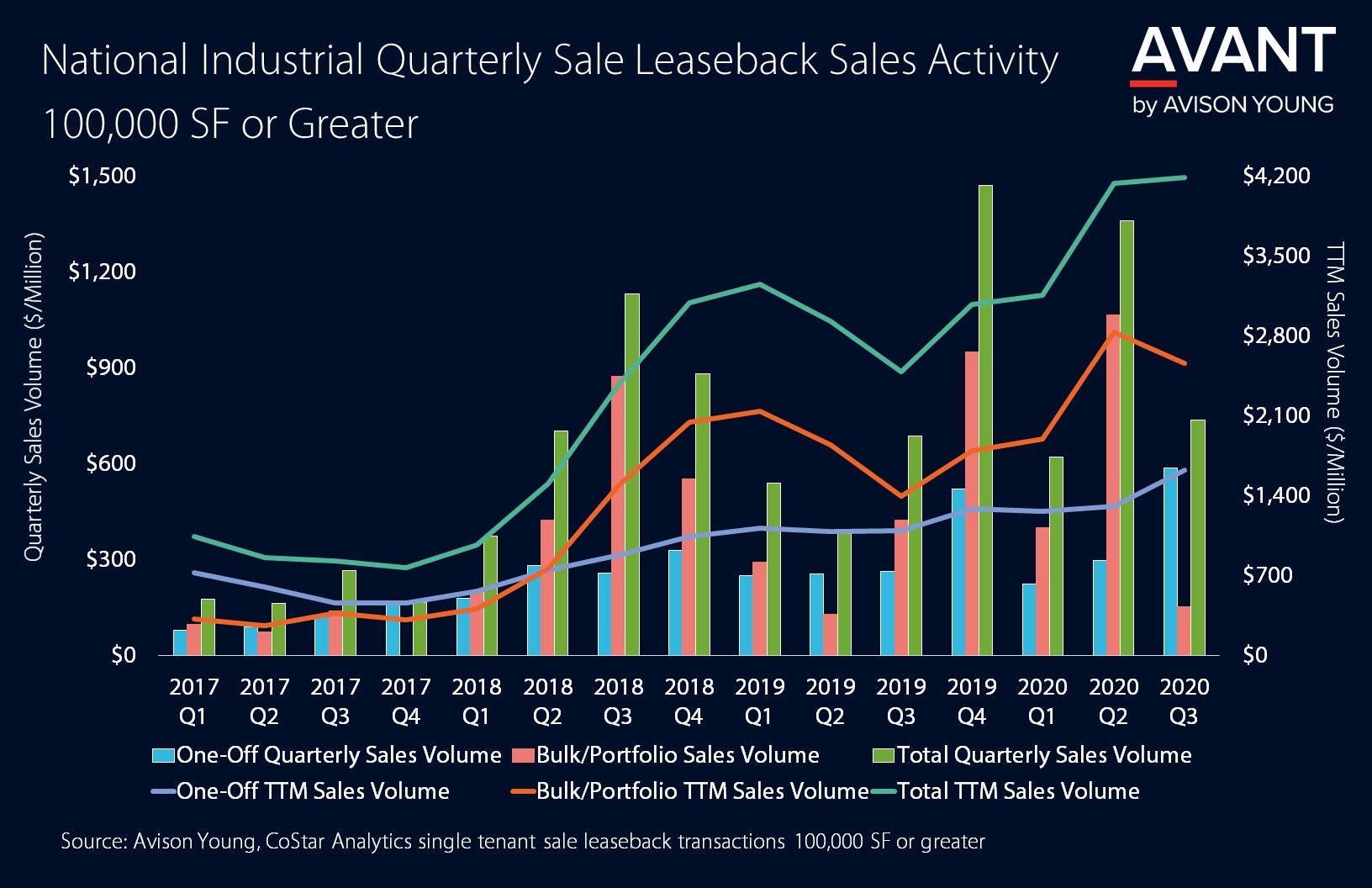 As shown in the chart above, total sale leaseback activity, consisting of both one-off and bulk/portfolio transactions, has generally seen positive momentum since 2017. In the first quarter of 2017 total quarterly sale and trailing twelve month (TTM) sale volumes increased on a quarterly basis through the third quarter of 2018. During this timeframe one-off sale leasebacks grew on a consistent basis, while bulk/portfolio sale leasebacks varied until the second quarter of 2018. From then on, bulk/portfolio quarterly sales and TTM sales volumes accounted for a greater percentage of total sale leaseback activity in the industrial space. In the fourth quarter of 2018 we see that sales activity for both one-off and bulk/portfolio transactions decreased on a quarterly basis through the second quarter of 2019, which also correlates with subsequent decline in TTM sales volumes to their lowest points in the third quarter of 2019.
Sale leaseback activity generally started to increase from its lowest point in mid-2019 to its highest amount in the fourth quarter of 2019, mostly as a result of increased bulk/portfolio sales activity. As such, we see TTM sales volumes increase on a national level throughout the subsequent quarters at the end of 2019 and into the first half of 2020. In fact, bulk/portfolio sales activity reached its peak in the 2020 Q2, the first full quarter to feel the initial economic impact with the onset of COVID-19. While one-off quarterly sales volume has increased on a quarterly basis throughout 2020, bulk/portfolio transactions have varied, albeit reaching its highest peak in the second quarter. However, in the third quarter we see that total sale leaseback activity declined significantly primarily due to the decline in bulk/portfolio sales to one of its lowest levels since the second quarter of 2019.
What is interesting to note is the sharp decline in sale leaseback activity throughout the third quarter of 2020. We believe that this is due to negative macroeconomic conditions brought about as the pandemic hit across the U.S., forcing both investors and owner/users to "pause" investment and disposition activity as they assessed the full impact of the pandemic on the U.S. economy. While fourth quarter data is incomplete at the time of this publication, we believe that there will be an increase in sale leaseback activity to close out 2020. There have been several recent transactions that support this such as Blackstone's $358 Million sale leaseback transaction with Iron Mountain for 13 industrial properties that closed in November-2020. Another major transaction that closed in November was Artemis Real Estate Partners and MCB Real Estate's acquisition of an 890,000 SF Rite Aid distribution center for $65 Million. This investment/disposition strategy should also gain momentum into the New Year as companies look for ways to generate revenues to sustain or increase business operations. This will also be a strategy used by investors looking to displace dry powder.
Major Players in the Industrial Sale-Leaseback Space
The top one-off and bulk/portfolio players in the industrial sale-leaseback space over the last 24 months include: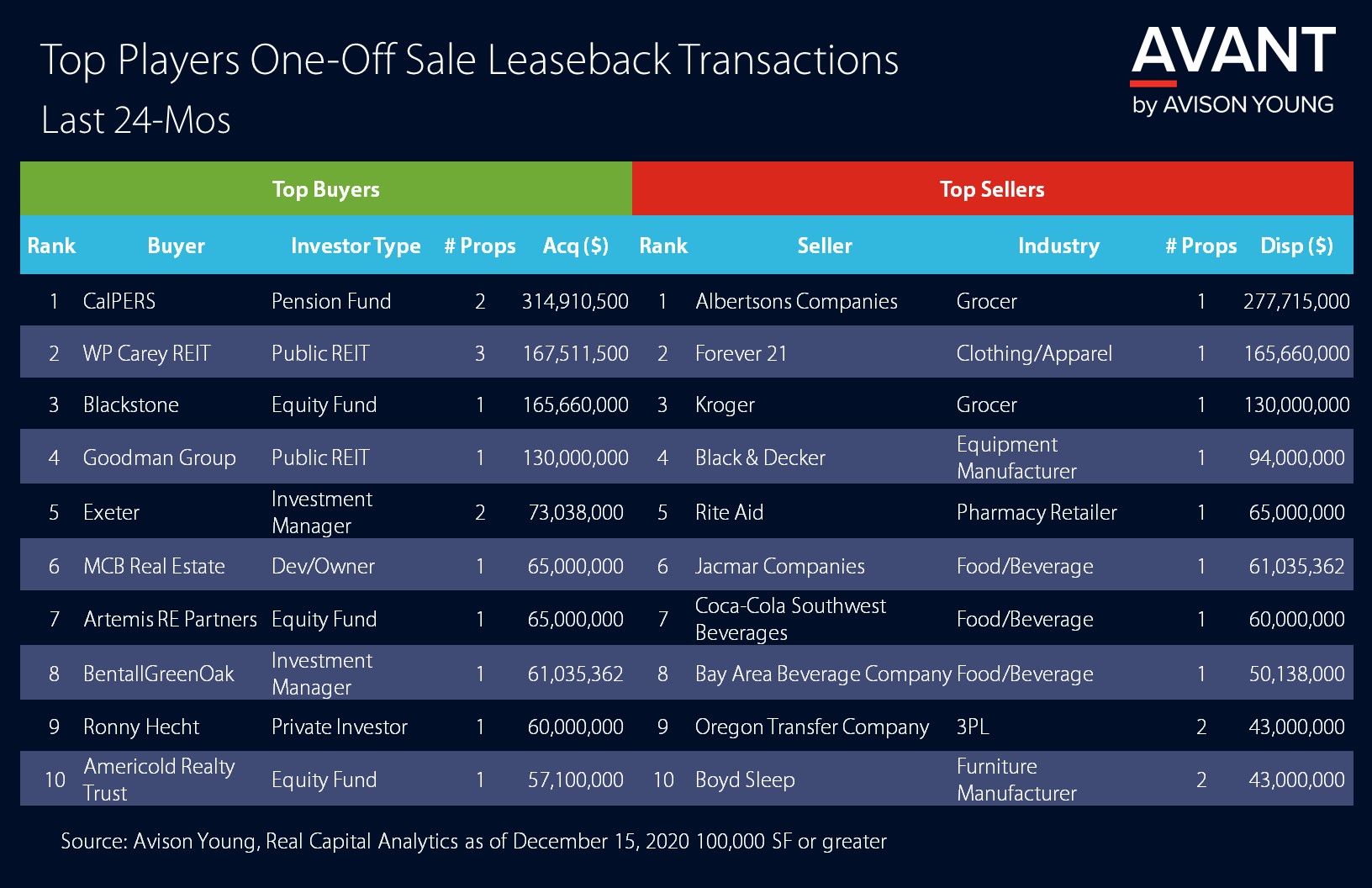 From the investment side, the top players are traditional institutional investors that have been active in the industrial capital marketplace over the last few years, such as: investment management firms, pension funds, private equity investors and public REITs. On the seller side, there are a few trends among owners/users for one-off transactions during this timeframe suggesting these companies are taking advantage of positive industrial market fundamentals. First, several grocers and food/beverage users are among the top 10 sellers to enter into one-off sale leaseback transactions, likely due to the high barriers to entry in those marketplaces as well as the constrained supply for these asset types. Additionally, the other largest sellers are in the consumer/retail industries indicating that these companies are using their owned real estate to create proceeds that they can use to re-invest into their business and/or pay-off outstanding debt obligations.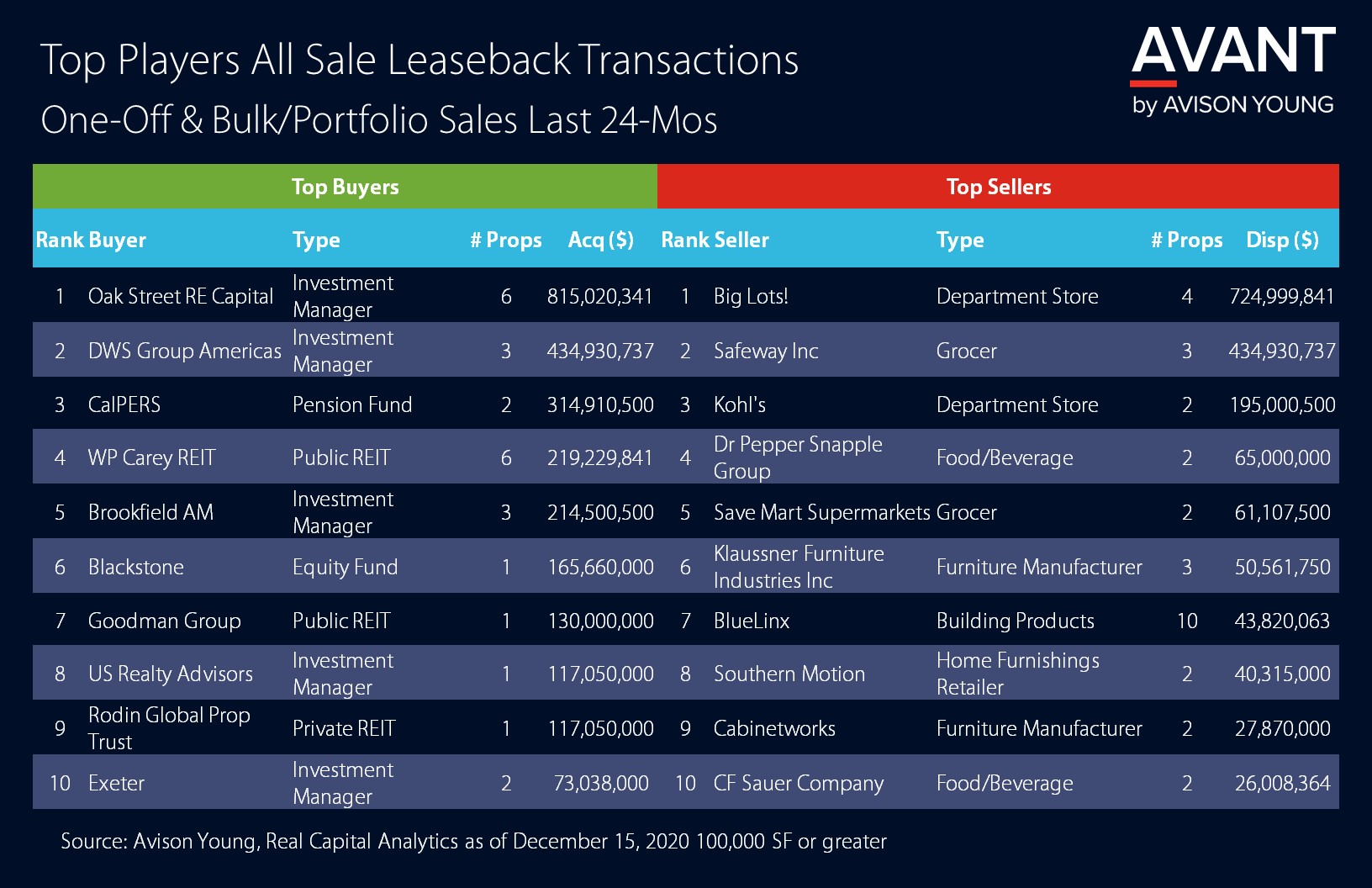 A look at investors on the bulk/portfolio sale leaseback side shows that many of the same institutional investors have been active in this space over the past 24 months. However, investment management firms and public/private REITs account for some of the biggest transactions in this space compared to one-off sale leaseback transactions. On the seller side, grocers and food/beverage users make up four of the top ten portfolio transactions over the last 24 months. However, most of the other users that entered into bulk/portfolio sale leaseback transactions operate in the consumer retail space, which is likely a result of declining retail sales and resulting need for additional capital to modify and/or enhance their business operations.
Notable Transactions 2020 Q4 and Industry Trends into 2021
Despite incomplete fourth quarter data, the significant activity to date is an indicator of continued growth in this type of investment, despite the recent resurgence of COVID-19 over the last few months.
Even with those limitations the pharmaceutical industry has well-established cold chain distribution practices that will be put to the test as the vaccines are approved. Pfizer, for example, has discussed its detailed plans for vaccine transport, storage and temperature monitoring, and the use of established distribution centers and temperature-controlled shippers.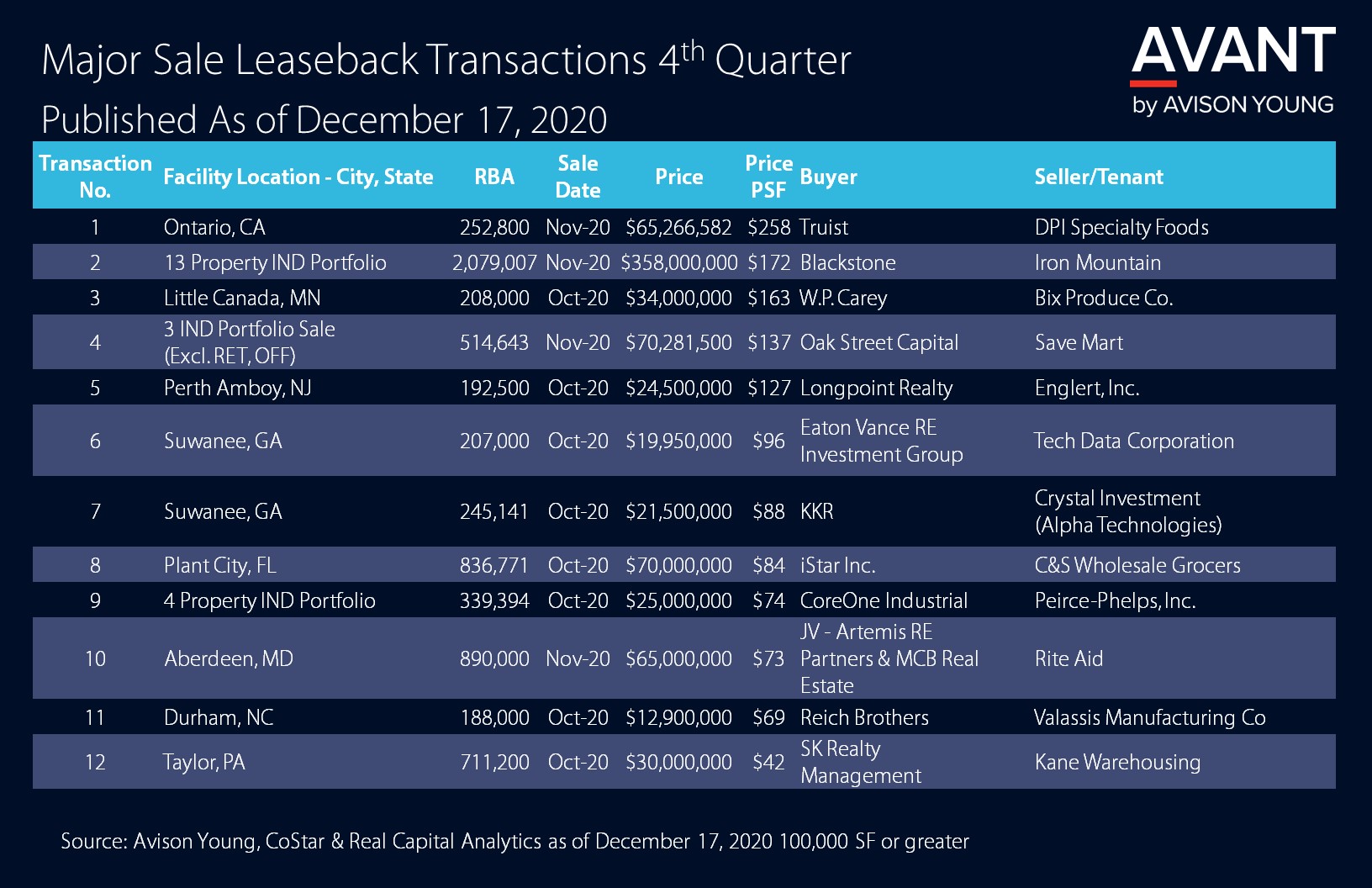 As 2020 comes to an end, we believe that sale leaseback activity will continue to grow in the industrial space both in the fourth quarter and into 2021 as owners/users better understand the full economic impacts of COVID-19. These owners/users will be able to take advantage of a "seller's market" given the competitiveness in the national industrial capital marketplace in order to monetize their real estate portfolios to generate revenues for their businesses.
Have a happy holidays,

The Avison Young Industrial Capital Markets Team

Erik Foster