Weekly Update: Industrial Capital Markets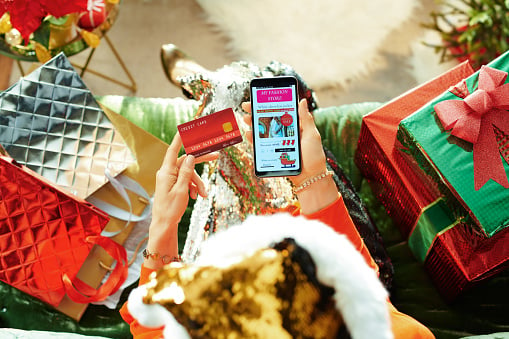 23 Nov 2020
Late into the fourth quarter, we typically begin to think about spending time with family, winding the year down, the Holidays and, of course, shopping! Well, even during a pandemic, it appears as though all of those things are true, just with minor and, sometimes, major modifications. Online shopping is now an integral part of many of our lives, but the data suggests that while we may be using it now more than ever, we also continue to be reluctant to go to the mall (a topic we will explore in greater detail in another newsletter, so stay tuned). Consequently, industrial space will be utilized to its fullest in the coming days and our data below suggests the continued positive theme for industrial assets potentially well into the future.



Erik Foster
Principal
Head of Industrial Capital Markets
The Holiday "Effect" on the Industrial Supply Chain
With the Holiday Season upon us, we wanted to analyze how changes in online consumer demand and more prevalent e-commerce/curbside pickup offerings have impacted the industrial real estate space leading up to and after the season ends. As we have discussed since March 2020, consumer adoption and demand for goods, especially fast-moving consumer goods and groceries, via e-commerce/curbside pickup alternatives relative to in-store shopping has grown substantially over the course of this year. Given this, and the recent resurgence of COVID-19 across the nation, consumer demand for online goods/services will likely continue to increase throughout the Holiday Season and into January 2021. This will prove to be a significant "test" on retailer and e-commerce companies' preparation for this increased demand on the industrial supply chain.
Deloitte Holiday Survey: Shift to Online Continues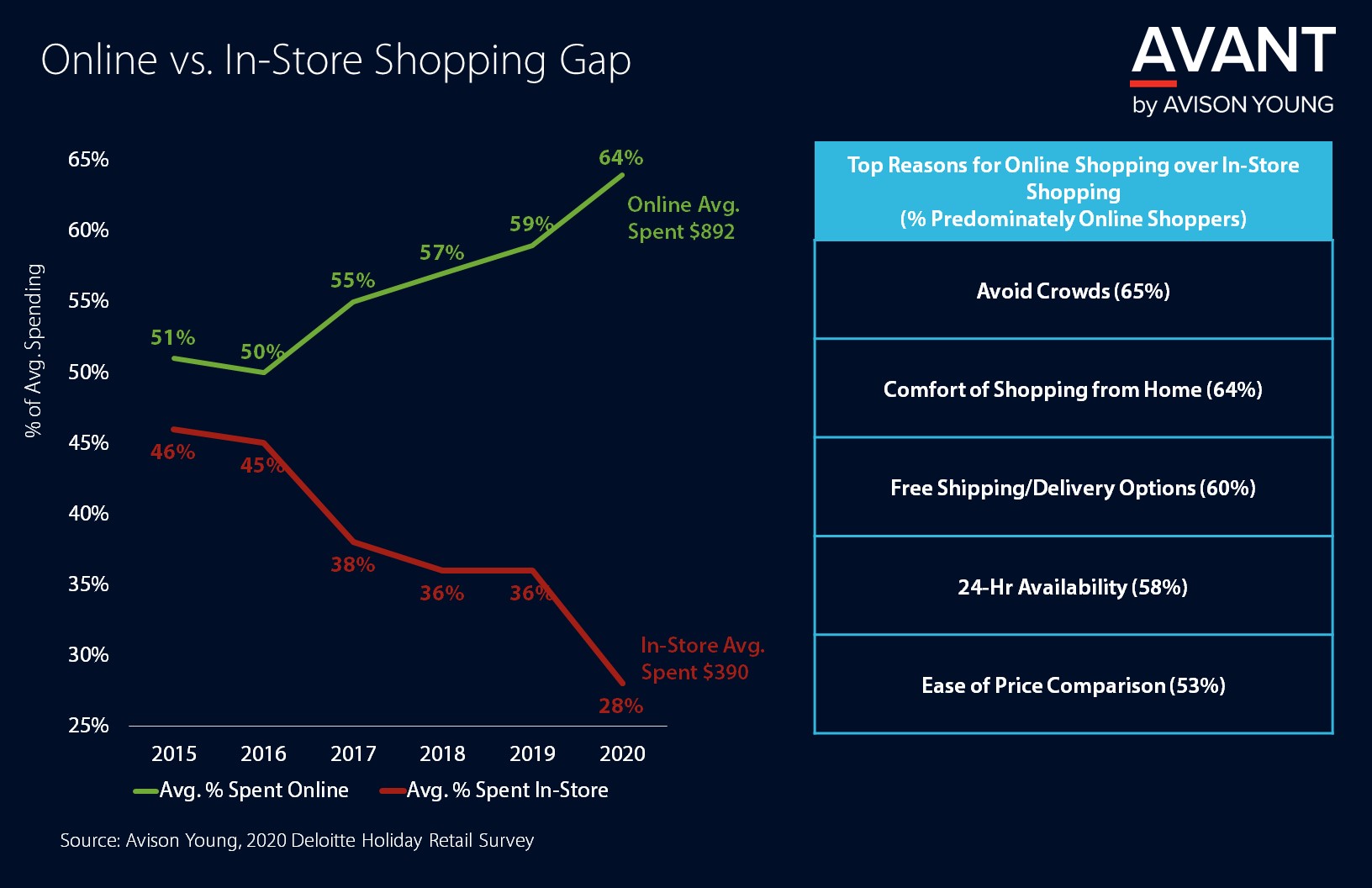 One of the biggest themes in Deloitte's 2020 Holiday Retail Survey is that consumers still remain hesitant to return to stores. Of the 4,012 consumers surveyed, approximately 51% of respondents were anxious about in-store shopping as a result of COVID-19. (a) Additionally, 65% of the sample prefers online shopping in order to avoid crowds during the Holiday season. (a) As evidenced in the chart above, the average amount spent on online goods during the holidays has grown since 2015. At the same time, the average amount spent on in-store holiday purchases has declined year-over-year. This relative growth in e-commerce spending and continued decline of in-store spending, has been exacerbated due to the onset of COVID-19 as we see the biggest divergence between these net metrics in 2020.
Retail Inventory Imports Translates to Need for Industrial Space
The National Retail Federation's (NRF) Retail Port Tracker records retail import counts of twenty-foot equivalent units (TEUs) from cargo shipments entering the U.S. It is a leading indicator to measure the amount of incoming retail inventory that will flow through the U.S. industrial supply chains before making its way to end consumers/users. In comparing this data to Class A industrial net absorption, we believe there is a relationship and correlation between the two.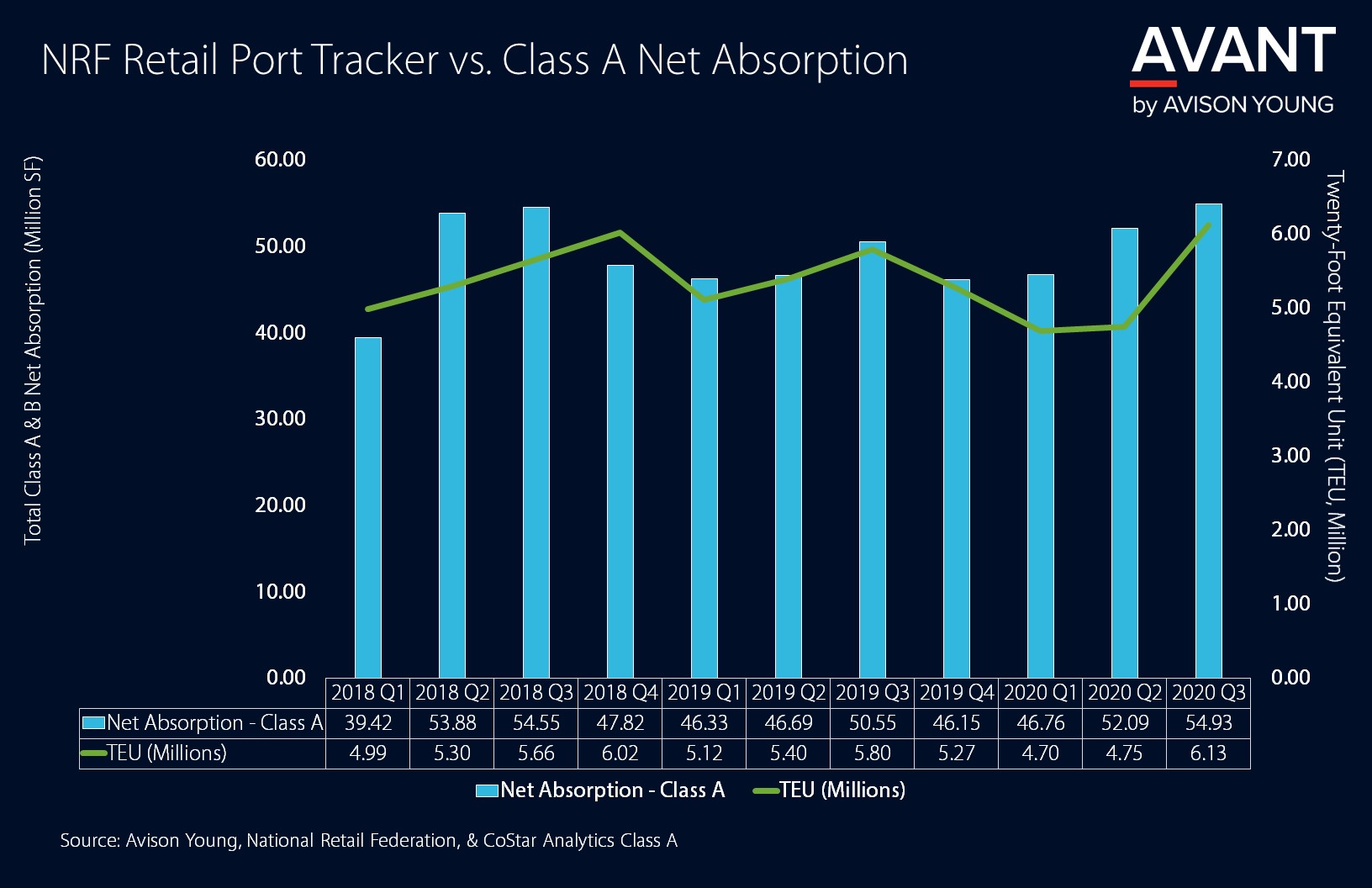 Retail TEU imports were generally at their lowest points in the 1st quarter of each year from 2018 through 2020, we believe this is due to a residual and seasonal effect from prior "Holiday Quarter," suggesting that industrial users demand less retail inventory which results in less aggregate demand for new industrial space during this "Holiday Hangover" timeframe. However, there is generally a relative increase in both metrics during the 2nd and 3rd quarters, as we see quarterly increases in both retail TEU imports and growth in net absorption. We believe this is due to industrial tenants/users leasing more space while they also add retail inventory to their supply chain in order to meet current demand in addition to building up inventory levels to meet peak demand in the 4th quarter. Hence the relative correlation between the two metrics on a quarterly basis through the 2nd and 3rd quarter each year.
4th quarter data is more conflicting as there is no clear relationship between retail TEU imports and net absorption over this period. However, we should note that industrial tenants/users need time to improve/set-up newly leased industrial space prior to building inventory levels for their warehouses, which makes sense as the 2nd and 3rd quarters generally see the most amount of space absorbed. As such, import and net absorption volumes during this timeframe are harder to predict especially due to the fact that the 4th quarter of 2020 only has partial year data at the time of this publication.
Retailers Plan Supply Chain Shifts
The shift towards online shopping has undoubtedly forced retailers to abruptly rethink their supply chains from procurement into distribution/fulfillment networks and how demand planning is constituted. However, this unprecedented holiday shopping season has forced even more bricks and mortar retailers to shift strategies and expand store pickup options to compete, as many retailers will likely be increasingly forced to limited in-store shopping to ensure social distancing guidelines are met. The 2020 holiday shopping season has already seen considerable shifts, with the Black Friday shopping surge being replaced by month-long sales in November by Best Buy, Target, Macy's and other retailers. J.C. Penney started Black Friday-like sales in mid-October to get a jump on the November frenzy. (b) According to Forbes, e-commerce sales in November and December 2020 are projected to increase by over 35% to $190 Billion. (c)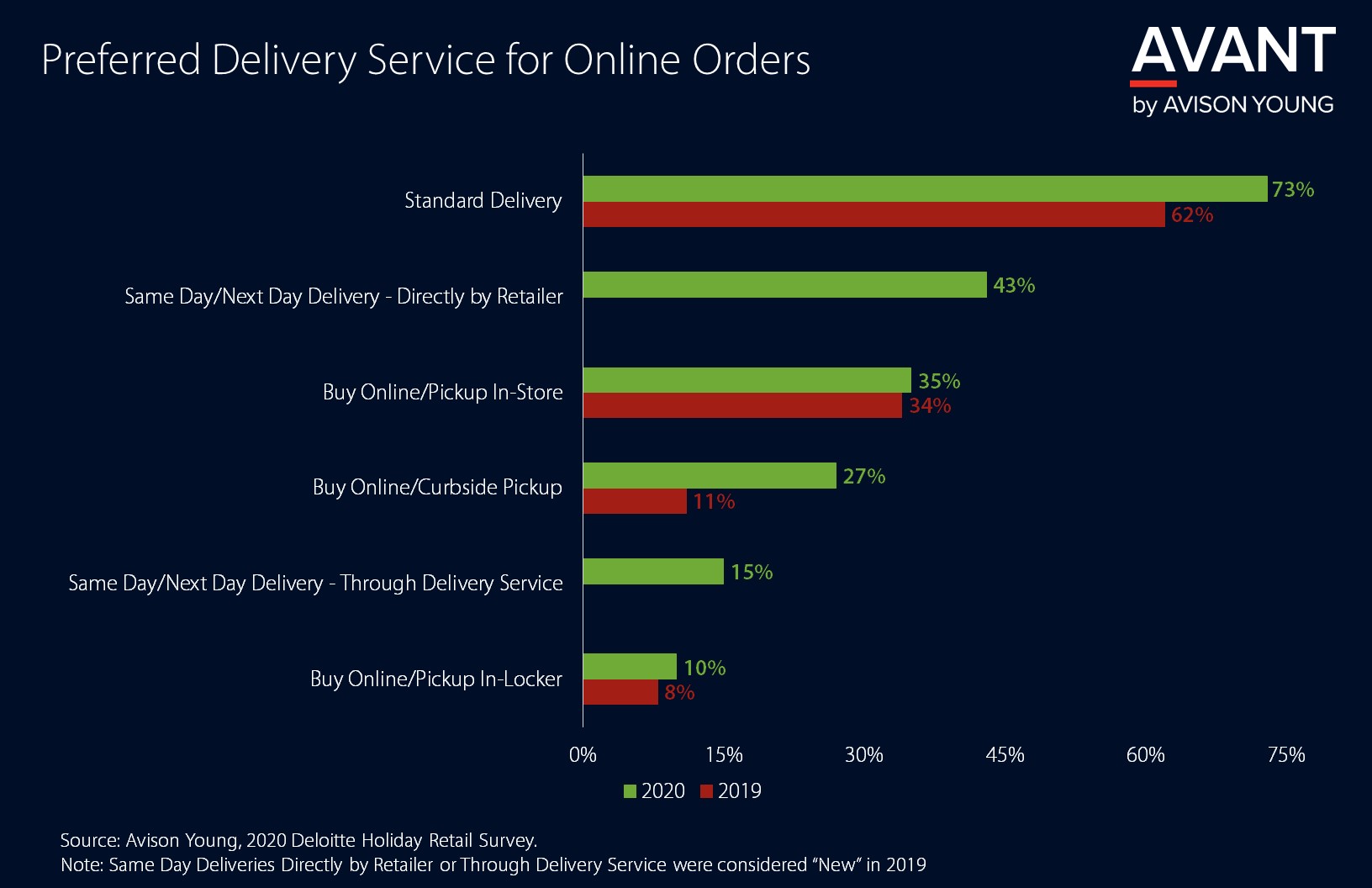 Most companies offer direct- or third-party shipping and curbside pick-up options to their consumers. As shown in the Deloitte Survey, these delivery options are extremely popular among online shoppers as they offer significant convenience over in-store shopping. (a) Generating online sales is only part of the battle for these companies as the logistics of providing on time delivery during peak season demand complicates the process.
More Sales = More Returns and Enhanced Industrial Capacity
Forbes also projects that holiday returns will be in the rage of $47 to $57 billion after the season ends. (b) Though there is variability among product categories, online returns typically represent 25-30% of e-commerce sales as compared to physical in-store returns representing approximately 8-10%. (b) The significant growth in online sales during the Holiday Season ultimately means that there will be more returns on an already strained logistics space starting in January 2021. Companies will need to have capabilities in place to handle these returns starting with the industrial reverse logistics space to handle this inflow of products in addition to operational strategies that make returns as seamless as possible.
One such company that specializes in this is Happy Returns, a third-party software and logistics company that focuses on product returns for its clients/customers. The company accepts physical/mailed-in returns and processes them for end delivery to its clients to simply product returns and make the process as profitable as possible. (b) Additionally, its recent partnerships with Inmar Intelligence and FedEx has expanded its capabilities to handle even more returns as the company offers three different return options for consumers: (b)
Box-free in-person returns at its 2,600+ Return Bars located across the U.S. (including 2,000 FedEx locations), (b)
QR code returns at retail store locations, or (b)
Returns by carrier (b)
This is just one example of how companies are now increasingly employing a broad blend of different industrial footprints as well as technology and third-party support or partnerships to increase supply chain efficiency during the busiest time of the year. As online sales continue to grow in the future, more companies will compete to make the industrial and logistics space as efficient as possible.
Sources: (a) Deloitte | (b) Business Insider | (c) Forbes | (d) National Retail Federation
Have a wonderful Thanksgiving,

The Avison Young Industrial Capital Markets Team

Erik Foster