Avison Young welcomes Katharina Biermann as Principal in Germany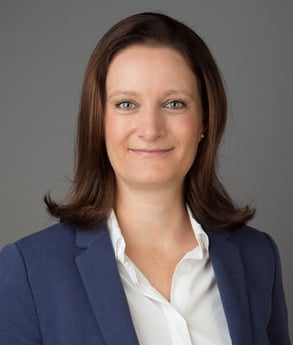 12 Mar 2020
The international commercial real estate services firm has more than 600 Principals worldwide
Berlin – The international commercial real estate services firm Avison Young has made Katharina Biermann, Director Office Leasing at the Berlin office, a "Principal" (partner) in the company. This brings the number of partners in Germany to nine. The company, which employs approximately 5,000 people and maintains 120 offices in 20 countries, has more than 600 Principals worldwide.
Being a Principal-owned organisation has always been a hallmark of Avison Young and an integral part of its philosophy. Currently, around 80 percent of the company shares are in the hands of its Principals, who manage operations of the business as a community of owners. Their focus lies on developing holistic and sustainable solutions, taking a long-term view to meet client needs by working collaboratively across all countries and departments.
Nicolai Baumann, Principal and Managing Director of Avison Young in Germany, says: "Katharina Biermann has made a significant contribution to establishing our Berlin office in recent years. Thanks to her broad network and consistently outstanding letting performance, she helped to boost our presence in the important Berlin market."
Udo Stöckl, Principal and Spokesman of the Management Board of Avison Young in Germany, adds: "We are very pleased to welcome Katharina Biermann to our partner circle. It is part of our Principal-led culture of empowerment and collaboration to offer long-standing, experienced colleagues the opportunity to acquire shares in the company and thus also to help shape Avison Young. Together with Katharina, we will now further strengthen and advance our business in Germany."
Katharina Biermann has been working for Avison Young since 2016 and advises both national and international clients looking for suitable office spaces in Berlin. In 2019 alone, she realised rental agreements with a volume of approximately 20,000 sq.m. She completed her studies of Business Economics as business graduate (Diplom-Kauffrau) at the European Business School in Oestrich-Winkel.
Avison Young is the world's fastest-growing commercial real estate services firm. Headquartered in Toronto, Canada, Avison Young is a collaborative, global firm owned and operated by its Principals. Founded in 1978, with legacies dating back more than 200 years, the company comprises approximately 5,000 real estate professionals in 120 offices in 20 countries. On the German market, Avison Young has been operating since 2014 and is represented at five locations in Munich, Berlin, Hamburg, Frankfurt am Main and Düsseldorf. The firm's experts provide value-added, client-centric investment sales, leasing, advisory, management and financing services to clients across the office, retail, industrial, multi-family and hospitality sectors.